January 30 status:
WEIGHT

: 181.4
CONSUMED ON 1/30

(IN ORDER):
A 20 ounce can of Peace Tea brand Green Tea (awful)

A bottle of Budweiser and a few hors d'oeuvres at Canderson and Tiger Lily's photo show opening at the Rite Spot in SF (some pita chips, a breaded cheese stick, some brie and crackers, 2 dolmas from a can, 2 slices sourdough bread, 1 butter cookie and a pre-packaged Rice Krispie treat)

Chocolate milk (2 cups fat-free milk, ice, 4 tbsb. Mexican chocolate syrup)
DEFECATION

(what my turd looked like):
Half a challah that fell into a pan of brisket drippings


EXERCISE:
I ran 1 lap around Lake Merritt (about 3 miles.) I think it took 25 minutes.

WATCHING: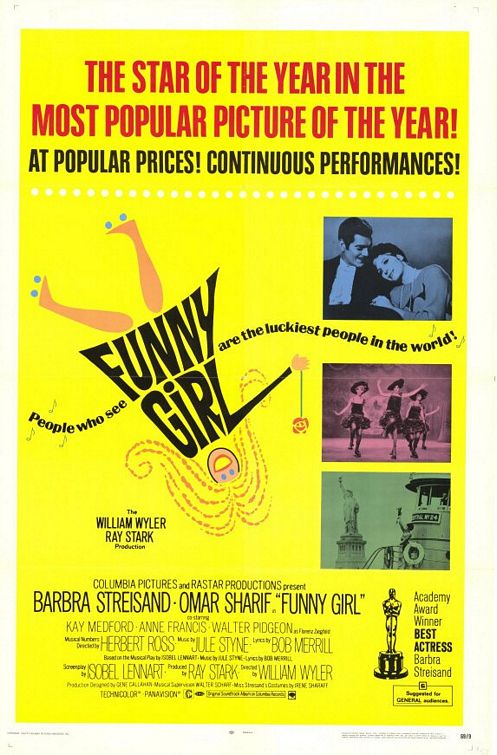 Funny Girl

- 1968- How they hell had a fruity Broadway musical fan like myself never seen this movie before? Streisand won a Best Actress Oscar for this, her first picture. I don't know what other actresses were in the running, but there's no way anybody else was better than her the year this was released. She is in nearly every scene and totally kills them all. The picture is more than 2 hours 30 minutes, which is about 50 minutes more than my attention span can handle these days, but I couldn't take my eyes off the screen. There are a bazillion good musical numbers, but my favorite has got to be "Don't Rain on My Parade." This movie came out 3 years earlier than

Fiddler on the Roof

and was set mostly in pre WWI New York, but somehow winds up being 10 times Jewy-er than

Fiddler

. Must see!