As promised, here begins a chronicle of my routine of training and self-sabotage between Inhuman Eating Machine sessions. Expect updates 3-4 times per week. With any luck, the actual IEM #14 eating session account will post within a month.


I did the eating for IEM #14 (Ex-Wife Challenge) this past Wednesday, January 20.
I was belching carnitas until about 4pm on Thursday and didn't regain any semblance of hunger until about that time.



WEIGHT:



I weighed in at 183.2 lbs. on 1/20 prior to the session. The next morning, I was just shy of 192. By Friday, I was down to 187.6.
CONSUMED ON 1/21 (in order):
2 ounce Rold Gold "Thins" Pretzels

20 ounce Pepsi

3 ounces Fritos

1 lb. bag of baby carrots

Approx. 2 cups of Haagen Dazs Brown Sugar ice cream (This is seriously the best ice cream ever. Alas, it seems to be going "out of print." They may still have some at the Oakland Grocery Outlet.)

Big bowl of fresh cut pineapple heated in the microwave. (Used pineapples were .99/ea. at the new Berkeley Bowl last Monday. I bought four.)
DEFECATION
:
Thursday morning, I dropped what resembled a 4-serving pot of cold oatmeal.

11pm that evening, I jettisoned a half dozen missiles about 6" each in length and roughly the color of chocolate chip cookie dough.
EXERCISE:
I had school from 2-10, so I had no time for the gym. Luckily, I logged a over a mile walking from my car to the classroom- in the rain. As I've stated many times before, I WILL NOT PAY TO PARK!

LISTENING: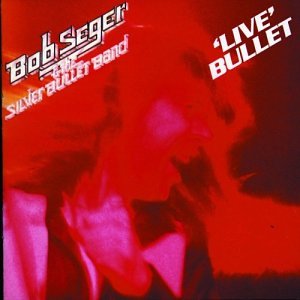 Linda Ronstadt-

Silk Purse

LP- 1970- $1.00- Not as good as the 1971 self-titled LP she did after this one and not even in the same area code of greatness as

Heart Like a Wheel

. However, there are a bunch of great songs here, especially "Long, Long, TIme," and "He Dark the Sun." And the cover photo of her in a peasant blouse surrounded by hogs is spank bank-worthy.

Bob Seger & the Silver Bullet Band

-

Live Bullet

2xLP- 1976- $1.99- Like many fans of the underground music, I dismissed Bob as a hack. Later, I learned that his work with the Bob Seger System and the Last Herd rivaled other Detroit rockers like the MC5 and The Stooges. Yet, I still shunned his entire Silver Bullet Band output. Thanks to local Seger tribute band, Total B.S., I have seen the error of my ways. This is one of the best live records ever. Bob's version of "Nutbush City Limits" is crushing and the segue of "Travelin' Man" into "Beautiful Loser" is unforgettably beautiful. And that's just Side 1 of the first record. This thing is worth $1.99 just for "Katmandu."
DONORS:



Thanks SO much to everybody who donated to IEM. In this economy, every penny counts. These people are my angels. If you'd like to be an angel, please send ANY amount via PayPal at:

alincolnlevy@yahoo.com
I Just Shat My Pants Out of Sheer Gratitude Donation Level:
Eric Thorberg-

$25

Stephanie Clarke-

$20

Bruce Saltmarsh-

$20

Man, You're Awesome Donation Level
Guy Prince aka "Mr. Biggles"

- $11

(In his honor, I have named a BM after Mr. Biggles. Henceforth, any turd comprised of a single jumbo loaf with a 30% taper will be known as a "Prince."

Paul Brown

- $10